Psychologist
Introduction to Aging and Long Term Care
---
Credits
7 CE credit hours training
Cost
Source

You have up to 3 chances to pass this test, after which the course will be unavailable for credit.


There is no known conflict of interest or commercial support related to this CE program.

Course Description

Improve your knowledge of the biological, social and psychological aspects of aging with this introductory course on Aging and Long-Term Care.

As the global population is living older, every country is experiencing growth in both the size and the proportion of older persons in the population. The World Health Organization estimates that by 2050, the world's population of people aged 60 and older will have doubled compared to 2020, reaching a staggering 2.1 billion people. In a similar manner, the number of persons aged 80 years or older is expected to triple between 2022 and 2050, reaching 426 million. In this context, it is essential that health-care professionals understand aging from a variety of perspectives.

This course identifies the physical and psychological changes associated with aging, as well as the common psychological disorders found in aging individuals. It also looks into various intervention techniques that help minimize trauma to both elderly patients and their families. Overall, it aims to provide a solid framework of understanding of the aging process and provides a strong starting point for dealing with the issues of our aging society. Parkinson's Disease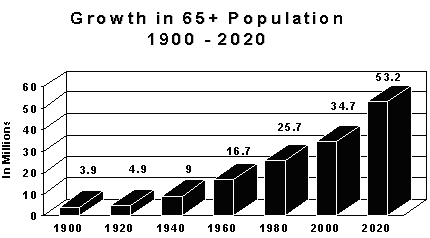 Minority groups as a proportion of the United States Population (U.S. Census Board Decennial projections)
In 1970 16% of the population was minorities
In 1998 27% of the population was minorities
By the year 2050 50% of the population will be minorities
Chapter 1
Healthy Aging
The Goal is Healthy Aging
If you ask 10 people, you will have 10 different definitions of aging. Aging to some people might be defined as: being able to perform everyday tasks without a problem for as long as possible, tasks such as bathing, eating, dressing, shopping, cooking, driving or taking the bus, walking a flight of steps or half a mile, lifting or carrying weight, meditating, reading, writing or handling small objects, and helping others.
We don't want to live long lives, we want to live long, healthy lives; we want to add healthy life


You must be logged in to view and or take the rest of the training.

Click here to login