Psychologist
Introduction to Aging and Long Term Care
---
Credits
7 CE credit hours training
Cost
Source
TRAINING
} elseif($training_id != '226') { ?>
POST TEST

You have up to 3 chances to pass this test, after which the course will be unavailable for credit.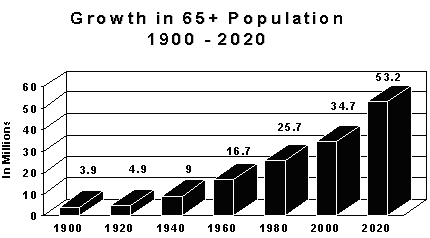 Minority groups as a proportion of the United States Population (U.S. Census Board Decennial projections)
In 1970 16% of the population was minorities
In 1998 27% of the population was minorities
By the year 2050 50% of the population will be minorities
Chapter 1
Healthy Aging
The Goal is Healthy Aging
If you ask 10 people, you will have 10 different definitions of aging. Aging to some people might be defined as: being able to perform everyday tasks without a problem for as long as possible, tasks such as bathing, eating, dressing, shopping, cooking, driving or taking the bus, walking a flight of steps or half a mile, lifting or carrying weight, meditating, reading, writing or handling small objects, and helping others.
We don't want to live long lives, we want to live long, healthy lives; we want to add healthy life


You must be logged in to view and or take the rest of the training.

Click here to login