CEUnits Blog
---
3 Myths About Online Continuing Education
April 28th, 2015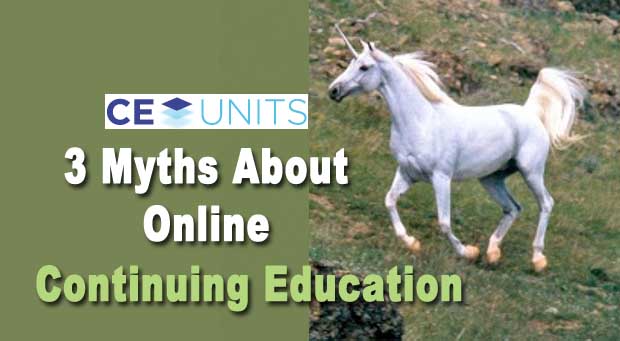 Do you know anyone who isn't busy? These days, it seems as though everyone is carefully balancing family and home life, friendships, play, school, work, being active and more. When considering how Continuing Education Courses (CEC) will enrich your life and work, it's important to find the right program and fit for you. Continuing Education Courses are a new take on the broad spectrum of 'Adult Ed' or secondary learning activities and programs. Some individuals choose CE units for personal enrichment or leisure, while others are driven to expand or grow within their field. Many people have already completed college credits or degrees. Others become familiar with the benefits of CEC, when branching out into a new market or career. While evaluating the direction that will foster your highest success, keep in mind the following similarities and differences. We will now contrast and address 3 myths about Continuing Education Courses.
Myth 1: Online Courses Aren't As Good.
Fact: Whether you attend a campus based class or opt for an online model, be prepared to learn, study, work. It isn't education without some effort and growth. There is a misconception that taking an online class will be easier when it comes to workload and less in depth in result. If basing one's desire for an online course on not having to pay for parking, hotels, conferences, childcare, gas or transportation; then this idea might prove true. Indeed, those who choose online courses are inspired by the speed and ease of working from home and that's one of the biggest benefits. This myth is false. With technology being so good, you will still get high quality continuing education done in the comfort of your home with the convenience of finishing it at your own pace.
Things to consider: If your home is a loud, active place or you have children or animals, which might distract you, consider having a work area or room within your home, so your study time will be more rewarding. Online classes often require a regular amount of time online so make sure you set aside the time to complete your continuing education.
Myth 2: All Programs Are The Same
Fact: Choosing the school or accredited program that fits your needs isn't everything, but it's a lot! Just like when you shop for a new vehicle and compare brands, strength and weaknesses; there are 'high and low end' Continuing Education Courses. How to tell which is which? Whether choosing an in person or online school, thoroughly review the website, links, and student or user reviews. Make sure that you only use an accredited course like the ones we offer at CEUnits.com so that you can make sure and get credit.
Myth 3: Spending More Equals Better
Fact: In-person learning can add up, especially when pursuing multiple classes over six months or a year and beyond. Dependent on the amount of money you have set aside for Continuing Education Courses, even online learning can add up (although the cost is typically much, much lower if you're doing it online). Just because a school has a respectable or familiar name, doesn't mean it's online program is great. Nor does high cost mean you will always have a better experience. Don't push your budget to a point where you feel uncomfortable or strained. Decide how much you'd like to spend on your CEU course and, then, evaluate the schools, which fit that financial availability. The plus of Continuing Education is that you can typically pay per course or session and when using a provider like CEUnits.com, you only pay when you pass. You are in control of your education!
For more information about continuing education credits see our courses here.
---
Leave a Reply
You must be logged in to post a comment.